Benson


Benson – The Center of Attention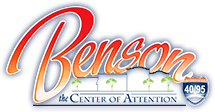 The historic and charming town of Benson is conveniently located in southern Johnston County at the apex of I-95 and I-40. For families searching a small, close knit community to raise children with great schools and active church life, Benson is a wonderful choice. Located just 30 minutes from Raleigh and 45 minutes from Fayetteville, the location is ideal for commuting to urban area jobs. Or maybe your life's dream is to become a small-business owner — the downtown area continues to thrive and draw shoppers from the surrounding farming community.

The charming community of Benson is located mid-way between New York and Florida and at the crossroads of I-95 and I-40. To learn more about the people, the thriving Main Street community, festivals, events and things to do…spend some time on the pages of our website and get to know why we love calling Benson home!

The town's population is only 3,600, however, the community is the center for the farming community, for shopping, dining and family activities…and it's been that way since 1887!


Have a little fun
With a nod to those who not only ran moonshine but helped start what we call NASCAR today, be sure to visit the Moonshine Distillery.
A can't-miss event – Benson Mule Days.
Be sure to check out Gregory's Steakhouse and tour its vineyards.
Find out more:
Town of Benson
<a href="http://www.townofbenson.com/VIsit Benson